"I was not a pet, not a doll, not an animal.
I was a survivor, and I was strong.
I would not be weak, or helpless again
I would not, could not be broken. Tamed." 
Breakdown:
Book: A Court Of Mist And Fury
Series: ACOTAR – Book Two
Author: Sarah J. Maas
Synopsis:
"Feyre survived Amarantha's clutches to return to the Spring Court—but at a steep cost. Though she now has the powers of the High Fae, her heart remains human, and it can't forget the terrible deeds she performed to save Tamlin's people.
Nor has Feyre forgotten her bargain with Rhysand, High Lord of the feared Night Court. As Feyre navigates its dark web of politics, passion, and dazzling power, a greater evil looms—and she might be key to stopping it. But only if she can harness her harrowing gifts, heal her fractured soul, and decide how she wishes to shape her future—and the future of a world cleaved in two."
SPOILERS
Tamlin you son of a B****!! How dare you.
OH.MY.GOD!! What the efff happened to sweet, caring Tamlin! No Tamlin, noooo! He changed, completely. He is exactly everything I hate in a person. WHHHY? Not that I didn't see it coming. I knew that she would never end up with him because ONE: Rhysand… sexy, brooding Rhysand. TWO: Tamlin didn't fight for her, at all. He is soo annoying, he didn't even try to help her. And THREE: RHYSAAAAND!
But still….Why!!
He is sooo different from when we first met him in >A Court Of Thorns And Roses!<
I have a feeling that this post will be full of insults, so bare with me, ok.
Before I truly begin my review, I saw these gifs in goodreads and I thought they were the prefect representation of how I felt. So my initial overall review of the book in gifs if you please…vv
Me when I received the book:


Me When I started reading:

Me Whenever Feyre and Rhysand were together:

Me when I read Chapter 54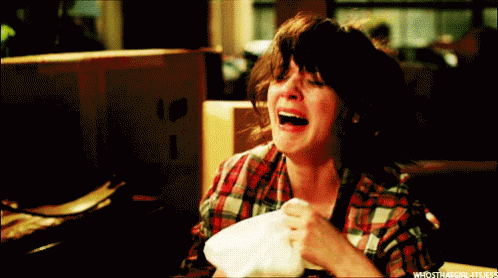 ALSO Me when I read Chapter 54

I mentioned this in my previous review of ACOTAR and I'll say it again. I rarely fall in deep and true love with a book. It takes a special kind of author to magically weave her world into my mine and make it one. Sarah J. Maas managed to do exactly that. I was soo high with excitement after the first one that I immediately went and bought the other two. And proceeded to devour this one.
SPOILERS
I promised myself that this time I won't delve into what happens and to whom. There is soo much that goes on, it's just impossible to do so..even if I wanted. So I'm going to keep this review short and simple.  Besides, my explosive beginning should've been hint enough for you.
Everything was just soo well written. SJM manages to capture all of the characters feelings exactly right. There were moments where it was difficult for me to read because she managed to explore depression in such a detailed and accurate way. Nothing was rushed in this book. All of us took our time recovering from the last catastrophe that happened and slowly worked our way to finding hope, love, family and future.
Feyre and Rhysand's character development was so profound throughout the book. From Feyre's journey of self-discovery and Rhysand's ability to allow love and people into his heart. His backstory is heart breaking. I truly dare you not to feel respect and awe when thinking about this hot High Lord. "He thinks he'll be remembered as the villain in the story. But I forgot to tell him that the villain is usually the person who locks up the maiden and throws away the key. He was the one who let me out." 
Lets also not forget about Tamlin and Lucien. Tamlin's crimes were unforgivable, I understand why he did what he did, but still that did not excuse any of his selfish actions. However, for some unknown reason to me, I felt Lucien's betrayal a lot harder and more painful than Tamlin's. Lucien was her friend, her ally. She saved his life. He owed her his life. Yet, he chose to watch her wither away, get abused and held prisoner. He chose to watch as she was held captive and died everyday in that place. Even after she begged him for help, he didn't even try. Not really.
I rarely ship more than one couple per book but this one left me with at least FOUR! We have my obvious OTP Rhysand+Feyre. Followed by Cassian+Nesta (I KNOW! JUST IMAGINE THEIR KIDS. FIERCE AS HELL). Followed by Mor+Azriel and Lucien+Elaine (not that I think he deserves her, not for now at least)
Enjoy my review for the first book in this series here! >A Court Of Thorns And Roses!< Followed by the third book review,  A Court Of Wings And Ruin! 
For reading this long post, I reward you with these beautiful illustrations of my ships!
Final Rating:
★★★★★
"When you spend so long trapped in darkness, Lucien, you find that the darkness begins to stare back." 
What did you think of this book, have you read anything similar to it? Or do you have any recommendations for me to try? Lets chat, don't worry, I don't bite. ^^

FOLLOW ME ON INSTAGRAM: @bookishowlette

SCROLL DOWN FOR MORE POSTS