For all you Manga Lovers out there. I present to you this weeks Manga Review, Kekkon Suru Kara Shite Mo Ii Yone. I know, looong name. But trust me, worth the time! Its about highschool students who actually married? How.. arent't they underage?!
Manga Monday is a weekly meme hosted here by Bookish Owlette. To Know more, click  here.
---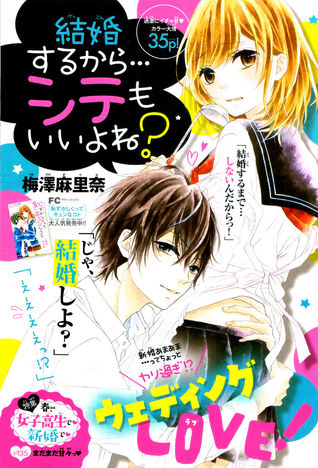 Breakdown:
Book: Kekkon Suru Kara Shite mo ii Yone
Volume:  #1
Genre: Shōjo
Author: Marina Umezawa
Synopsis:
Shizuku and her boyfriend, Daiki are high school students that live together. On top of that, they're married?! As "newlyweds", Shizuku has insecurities, particularly taking their relationship into the next level…
Review:
Story: It was the sweetest thing I've ever read. The flow of the plot is a bit hasty, you're left wanting so much more. However, the story is mainly about this 'one phase' in their life so its understandable. And, its only one chapter. Why?! It's so agonizing!
Characters: The female lead is your typical shy and quiet student. The innocent and mellow kind you usually find in shōjo manga. The male lead, Daiki, is the man in charge. Who pursues the girl and makes his intentions clear through his many advances.
Art: I just love the art style in manga. Kekkon Suru Kara Shite Mo Ii Yone is simply beautiful and breathtaking. If I were to have one quarrel, it's Daikin's eyes. They're just too manga-ee. I'm not sure how to explain it, but it's just my preference. But lets face it, they're definitely better than what I can ever draw myself.
Now, I will leave you with a few snippets of this love story.
Featured Shots:
---
---
---
To join, link up below with the URL to your blog POST (not your blog), your name and your email (which will remain hidden). Then bounce around the Linky!
Click 👇🏻

 Final Rating
😍😍😍😍😍
Short and Sweet
What did you think of this post, do you enjoy manga? Did you like this one? Or do you have recommendations? Lets chat, don't worry, I don't bite. ^^

FOLLOW ME ON INSTAGRAM: @bookishowlette

SCROLL DOWN FOR MORE POSTS