"I meant does it hurt when you hide every last shred of your individuality and self worth behind acres of silk and cups of powder and smiles that never, no matter how hard you try, reach your eyes?" 
Breakdown:
Book: Alex & Elisa
Series: –
Author: Melissa De La Cruz
Synopsis:
Their romance shaped a nation. The rest was history.
As battle cries of the American Revolution echo in the distance, servants flutter about preparing for one of New York society's biggest events: the Schuylers' grand ball. Their three daughters—Angelica, with her razor-sharp wit; Peggy, with her dazzling looks; and Eliza, whose beauty and charm rival that of both her sisters.
Still, she can barely contain her excitement when she hears of the arrival of one Alexander Hamilton, a mysterious, rakish young colonel and General George Washington's right-hand man. When Alex and Eliza meet that fateful night, so begins an epic love story that would forever change the course of American history.
REVIEW:
I would first like to state that I had no idea that this book was a retelling of the play, Hamilton. Not until I finished the book and read the acknowledgments. I would also like to point out that I've never read said play, nor have I ever seen it. The plot of the story was a complete mystery to me. Which I found to be a perfect situation, since it gave me the advantage of a truly unbiased review.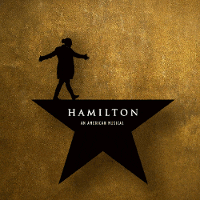 So what did I think of this?
Why it was a node to none other than the wonderful, Pride and Prejudice. I do very much find myself enjoying any form of historical YA fiction. And this did not disappoint. You need to have a certain air of playfulness mixed with wit and a dash of sauciness to be able to pull off such a genre, and Melissa did just that.
I have no idea if this retelling was an accurate representation of the original piece. Nor can I tell you whether it did it justice or not. However, based on what I've read, this was completely wonderful. So much so, I'm considering to read the actual play.
Anyway, the story is based on the time period of the revolution. So, you will find that a major theme is the war. For me personally, I tend to skip through parts that focus heavily on the military camps and political agendas. Which is what I did. And since this is meant to be 'A Love Story', I focused on just that. Colonel Alexander Hamilton sets his sights on our protagonist, Elizabeth Schuyler and tries to woo her into falling in love with him.
SPOILERS
I love the relationship between Alex and Eliza. Its so sweet and based on real reasons, (not just money). Elizabeth is smart and headstrong. Very much made to appeal to a more modern audience. Where as, her sisters all fall under the same social umbrella. Marrying for money. The eldest, Angelica, marries someone who is rich and states on several occasions that she doesn't have to love him as long as he provides her with the standards she expects her life to be. The youngest, Peggy, ends up marrying the richest man in the land by capturing Stephen's heart from the tender age of fourteen and shaping him to be the man she wants him to be. Smart lass.
Mrs. Schuyler, their mother, is exactly like Mrs. Bennett from Pride and Prejudice. She's mostly concerned with marrying her daughters off for more financial stability than for love. She is constantly badgering Eliza about finding someone rich and well stationed in life, instead of Alex. So much so, she ends up arranging a marriage with an awful man, who is actually Eliza's best friends brother. He ends up trying to rape her a day before the wedding in order to ensure she marries him. After she escapes and his terrible actions are revealed. They are swept under the rug! His family blame her and expect her to follow through with the marriage like nothing happened! Annoying! So typical, and more so, ANNOYING. Thankfully that never happens.
All in all, it was a wonderful and fast paced read. I recommend that all historical fiction lovers to pick it up and enjoy.
If you enjoyed this, then you will definitely enjoy:
Final Rating:
★★★★☆
"I think kindness, out of all virtues, is the best quality to have."
What did you think of this book, have you read anything similar to it? Or do you have any recommendations for me to try? Lets chat, don't worry, I don't bite. ^^

FOLLOW ME ON INSTAGRAM: @bookishowlette

SCROLL DOWN FOR MORE POSTS