Who wouldn't want to be a unicorn? You get to trot majestically through meadows, perch high up on rainbows, and wear tiaras made of starlight. Today I'll Be a Unicorn is an ARC which is expected to be published on 08 May 2018. Thank you Andrews McMeel Publishing for providing me with this cute read!

Breakdown:
Book: Today I'll Be a Unicorn
Series:  Heavenly Nostrils
Author: Dana Simpson
Pages: 12
Format: ebook
Amazon
• Barnes & Noble • Add to Goodreads
Synopsis:
Who wouldn't want to be a unicorn?
In this charming, super-sparkly board book, the stars of Phoebe and Her Unicorn celebrate the magical and enchanting world of being a unicorn, along with reminding young readers that being yourself is pretty great, too.
Who wouldn't want to be a unicorn? You get to trot majestically through meadows, perch high up on rainbows, and wear tiaras made of starlight. Phoebe lists all the wonderful things she'll get to do and can hardly contain her excitement about having a tail and magic horn. That is, until she learns that unicorns like to eat hay instead of pizza. Maybe she'll be a unicorn tomorrow instead!
Short Review:
One Line Review: Magically Magnificent 🦄
Any book with a unicorn is a win. I mean come on! Unicorns are awesome. Then you went ahead and added Pizza to the equation. Are you trying to kill me?! Now there's just soo much beauty in this book. You made it my favorite.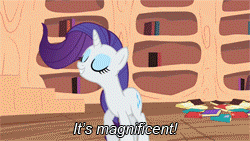 Today I'll Be a Unicorn is a wonderfully illustrated read. Filled with a delightful storyline with vivid and compelling art. We are swept away into the magical world of Phoebe and her pet unicorn. Where we learn the most valuable lesson of all, Pizza is The Best. Readers will enjoy this charming book.
Until Next Time,
Bookbye!
*This book was received in exchange for an honest voluntary review.
Final Rating:
★★★★★
What did you think of this book, have you read anything similar to it? Or do you have any recommendations for me to try? Lets chat, don't worry, I don't bite. ^^
FOLLOW ME ON INSTAGRAM: @bookishowlette
–
SCROLL DOWN FOR MORE POSTS