You know that I need this. You know.
Ever since the awesome success of my 2k18 challenges, I've been looking for ways to incorporate my ever growing TBR into a challenge. That isn't to say that I didn't do a marvelous job on my own… cause I did. No, really, I did. Last year, I read a whopping 66/97 books in my TBR. That's around 70% of my list!
But I need more.

22
According to NovelKnight, this reading challenge is dedicated to helping us knock those backlist books off our ever-growing to be read stack. It's so simple, you can have Any genre, any format, any length.
What is a "backlist" book, you may ask? This is any book that has already been released. For the purposes of this challenge, this is any book published in 2018 or earlier. If you have books on your TBR from 2018 and before, then this is the challenge for you.

The Guidelines:
The book must have been published in 2018 or earlier to count. It can be in any format (including an ARC/eARC) as long as the release date is earlier than 2019.
You have to start and finish the book in 2019 to count it. Any books started in 2018 and finished in 2019 do not count. Any books started in 2019 and finish in 2020 also do not count.
The challenge runs from January 1, 2019 to December 31, 2019. After that we will hopefully have read most if not all of the books in our list!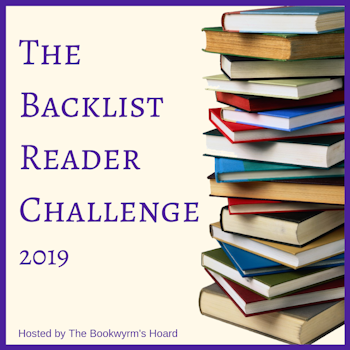 2
Because I'm not the kind of person who can stick to only one thing. I'm also going to be linking up to TheBookWyrm'sHoard. Who is hosting a similar challenge. This one is pretty awesome as well because there will be a $15 giveaway at the end of the year I believe. So be sure to check her out if you're interested in the chance of winning some mula.  The only difference is that this one doesn't have a mini challenge in it. As well as, linking up every month of the year should you need to.
Hogwarts House Mini Challenge Fun
This one is also hosted by the amazing NovelKnight. For people who need the extra motivation such as myself.  From her blog, she says:
Part of the Beat the Backlist challenge is the Hogwarts House Mini Challenge! Participating in the house challenge is COMPLETELY OPTIONAL. You earn points for your House for every book you read for this challenge.
House Points are calculated automatically every time a new book is submitted so you can see who's in the lead at all times!
To participate in the mini challenge, select your preferred Hogwarts House when you sign up for the BTB challenge! Starting in January, you'll be able to add every book you read to a Google Form that will calculate the points for you! You'll just need the book's title and author!
If you need anymore information, just visit her blog and join in on the fun! Be a Ravenclaw though! Ravenclaws for the cup! (Even though I'm a Griffinclaw :p)
My Four Year Long TBR List
Now borrowing my list from the previous TBR, below you will find all the books that I am aiming to read in 2019. Check back here for my progress and compare! Maybe we can share some advice on the way.
–Let The Fun Begin: Tally: 3/31
| Number | TITLE | AUTHOR | PUBLICATION | STATUS |
| --- | --- | --- | --- | --- |
| 1 | The Winter King | C.L. Wilson | | |
| 2 | The Sea King | C.L. Wilson | | |
| 3 | Discerning Spirits: The Celestia Divisa Collection | Kellie McAllen | | |
| 4 | Beauty & the Beast: Lost in a Book | Jennifer Donnelly | | |
| 5 | The Girl Who Drank the Moon | Kelly Barnhill | | |
| 6 | The School for Good and Evil | Soman Chainani | | |
| 7 | A World Without Princes | Soman Chainani | | |
| 8 | Soulmate | Kellie McAllen | | |
| 9 | Happily Ever After Collection | | | |
| 10 | Alice in Zombieland | Gena Showalter | | |
| 11 | Happily Ever After Collection | | | |
| 12 | A Discovery of Witches | Deborah Harkness | | |
| 13 | Bitterblue | Kristin Cashore | | |
| 14 | Fated | Alyson Noel | | |
| 15 | Jane Eyre | Charlotte Brontë, | | |
| 16 | Lady Midnight | Cassandra Clare | | ✔️ |
| 17 | Lord of Shadows | Cassandra Clare | | ✔️ |
| 18 | Queen of Air & Darkness | Cassandra Clare | | ✔️ |
| 19 | Princess: More Tears To Cry | Jean Sasson | | |
| 20 | Red Queen | Victoria Aveyard | | |
| 21 | Throne Of Glass, #1 | Sarah J. Maas | | |
| 22 | Throne of Glass, #2 – Crown of Midnight | Sarah J. Maas | | |
| 23 | Throne of Glass, #3 – Heir of Fire | Sarah J. Maas | | |
| 24 | Throne of Glass, #4 – Queen of Shadows | Sarah J. Maas | | |
| 25 | Throne of Glass, #5 – Empire of Storms | Sarah J. Maas | | |
| 26 | Throne of Glass, #6 – Tower of Dawn | Sarah J. Maas | | |
| 27 | The Sands of Time | Sidney Sheldon | | |
| 28 | The Stories of Edgar Allen Poe | | | |
| 29 | The Adventure of Sherlock Holmes | | | |
| 30 | Water For Elephants | Sara Gruen | | |
| 31 | Wuthering Heights | Emily Bronte | | |
| | | | | |
| | | | | |
"A reader lives a thousand lives before he dies, said Jojen. The man who never reads lives only one."
What did you think of this post? Do you have any recommendations for me to try? Lets chat, don't worry, I don't bite. ^^
FOLLOW ME ON INSTAGRAM: @bookishowlette
–
SCROLL DOWN FOR MORE POSTS